Suite
Colonial Suite
Our top floor Colonial Suite includes three bedrooms with full size beds, a fully-equipped kitchenette and living area, antique furnishings, and an enclosed porch with Colonial-style 90-degree angle windows with an amazing view extending across the tropical grounds and waters of the Caribbean Sea.
Perfect For
Families with young children
Colonial Suite Rates Starting From $88 per night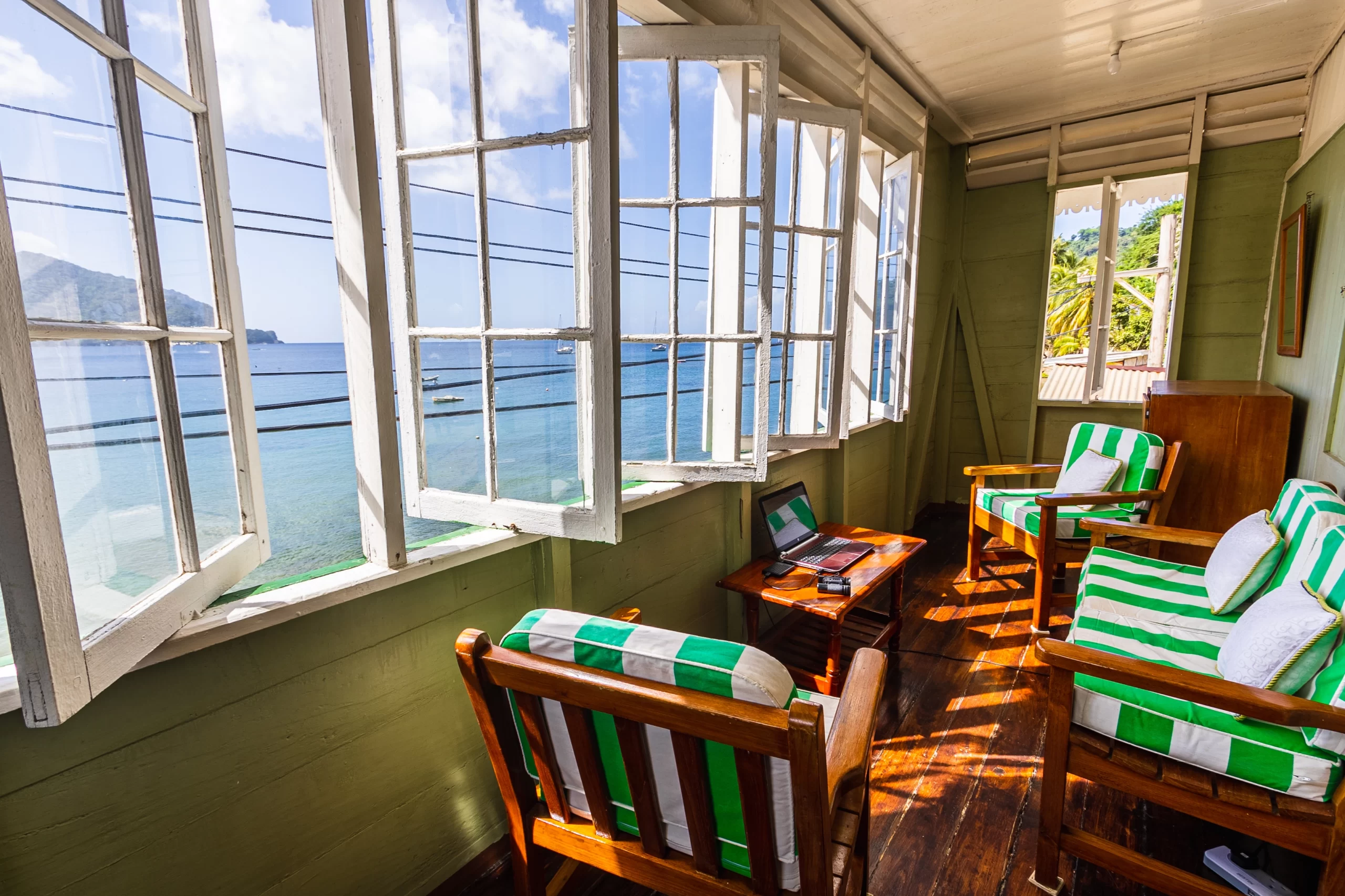 All guests at The Cholson Chalets are greeted by friendly staff and each apartment is decorated with vases of freshly picked flowers from the garden. A regular award-winning traditional Tobago guest house since 1997, the Cholson Chalets offer the ultimate eco-luxury experience to travellers eager for Tobago beachfront accommodation offering that blissful balance between rustic and chic, full-service and self-catered, relaxation and adventure.
About the Suite
Built in 1937, just ten steps from the palm-studded, horseshoe-shaped Man of War Bay, the Colonial Suite Tobago beachfront accommodation welcomes you to experience Charlotteville then and now.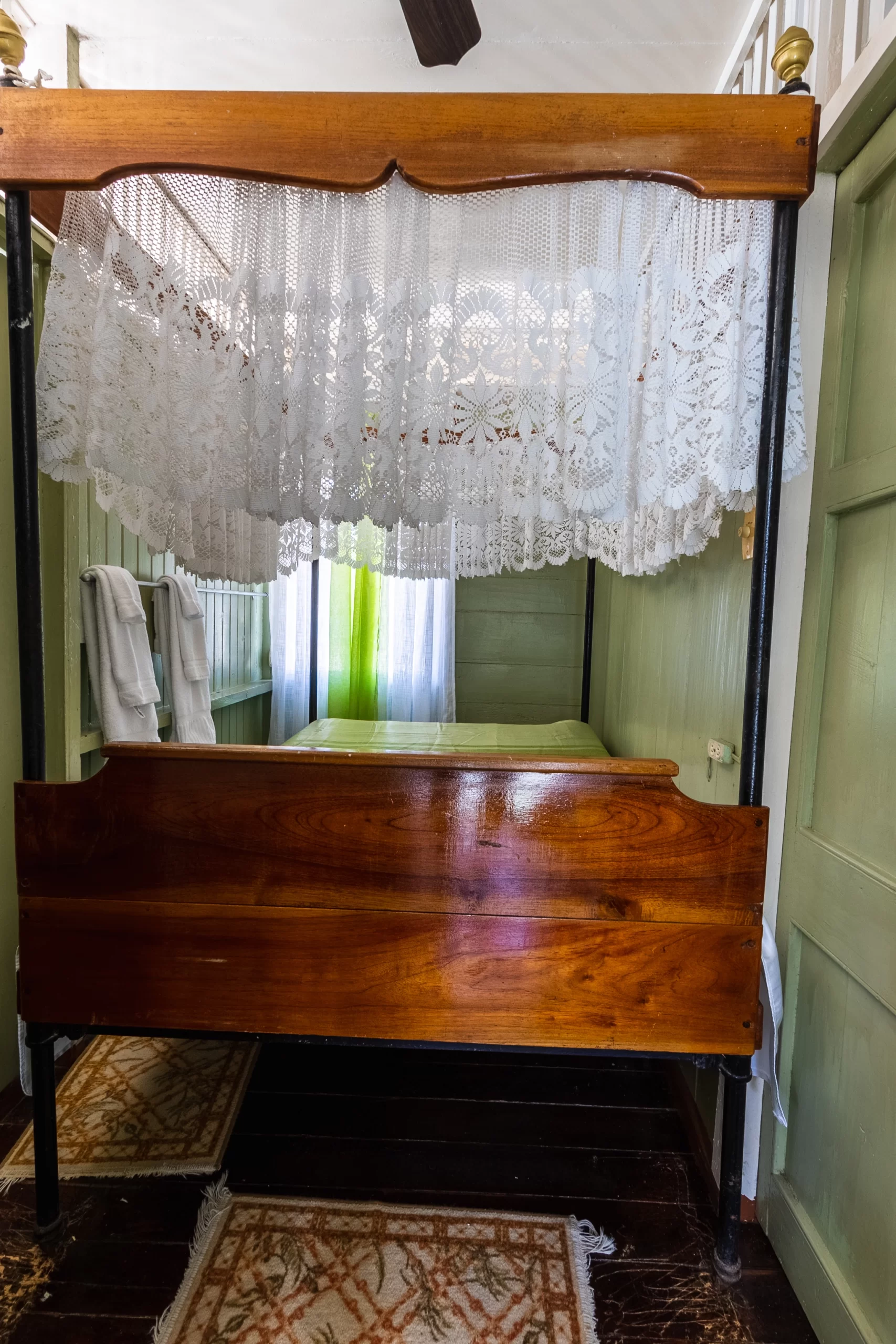 Distinct to the Colonial Suite are wooden varnished floors, an enclosed porch with Colonial-style 90-degree angle windows, and a charming assortment of antique furnishings including an English four-poster bed and cypress dressing tables and bureau. View full gallery. 
Free Parking
Safe and ample parking is available on the resort grounds
Cable TV
Cable TV access to over 100 channels is provided by Digicel
Free Wi-Fi
Free high-speed Internet and Wi-Fi access are readily available
Kitchenette
All suites are outfitted with a fully-equipped kitchen space
Private Bathroom
All bathrooms are stocked with linens and natural soaps
Residential Fans
Our cool and breezy living spaces are also ventilated by fans
Garden Access
Utilise our garden with fruits, bananas and coconuts
Beachfront
Each space has easy access to Man of War Bay 10 steps away
Your Stay Here
Your pleasure is our intention. We are pleased to offer access to the following paid in-house services to make your time at The Cholson Chalets Tobago beachfront accommodation in Charlotteville as easy — and charming as possible.
Catered
Meals
Upon request, we offer daily seasonal breakfast and catered lunch and dinner, Monday to Saturday, from Seaside's or Camela's Kitchens next door. We use only fresh, locally sourced ingredients from our garden or the surrounding farms to introduce you to the rainbow of flavours for which Caribbean cooking is famous.
In-House
Massage
What's Tobago beachfront accommodation without a little extra pampering? Upon request, an experienced massage therapist provides deep tissue, aromatherapy, Swedish-Hawaiian, and reflexology massages to get you limber, relaxed, and light, so you leave the Cholson Chalets mentally and physically renewed.

Cholson Chalets
72 – 74 Bay Street, Charlotteville, Tobago